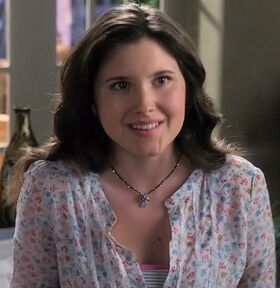 Chantel Shepard (Melissa Farman) is the hidden villainess of "Sugar", episode 11.02 of Law & Order: SVU (airdate September 30, 2009). She was the daughter of Vance Shepard, the charismatic owner of an Internet company. Following her parents' divorce, Chantel was left estranged from her mother Joyce due to her resentment of her ex-husband, and her relationship to Vance was also strained due to his workaholic tendancies.
After finding out that Vance had been skipping plans with her in favor of being with Emily Keefe, a woman who Vance met on Tasty Sugar (a dating service for women looking to date rich men, which Vance's company owned), Chantel snapped and killed Emily, doing so by strangling her. When her father walked in and saw what she'd done, he helped her dispose of Emily's body and later claimed to have murdered Emily to protect her. After reviewing security footage where Chantel left the train from which she threw Emily's body while disguised as her, Olivia Benson confronts Chantel while Elliot Stabler confronted Vance. After briefly denying everything, Chantel revealed her sinister secret and boldly admits to killing Emily, while also stating that Vance helping her cover up her deed proved that he loved her.
At Vance's insistence, the detectives allow him and Chantel to talk one last time, uncuffing them both. Chantel confronts her father, him having promised that they would get away with it. Vance apologizes and kisses his daughter goodbye. At that moment, however, the evil Chantel apologizes to Vance before stabbing him in the neck with a pair of scissors. As Vance bled to death before her, the psychotic villainess proclaimed that her father would never break another promise to her.
Community content is available under
CC-BY-SA
unless otherwise noted.