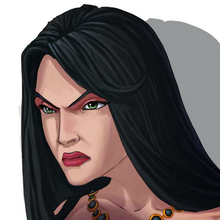 Celeste is a vampire witch who is the antagonist of the 2010 hidden object game Love & Death: Bitten.
Backstory
Edit
Damon is a handsome man who has been turned into a vampire slave by the evil vampire witch-queen Celeste and bounded by an enchantment to her, having to carry out her dark wishes against his will. He is now under the spell of Celeste, who is keeping him as her lover and slave.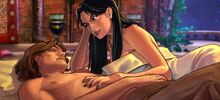 Damon restrained and quasi-humane, bristling at his thirst for blood while yearning for freedom from his devoted captor and mistress, Celeste. And while Celeste adores Damon, she harbors no illusions about his lack of interest in her, keeping the potion that would return his humanity – an intangible yet trappable property – well-secured with magical locks that he is incapable of breaching.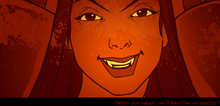 One night, when Queen Celeste sends him hunting for fresh blood in a village far from the witch's castle, he makes eye contact with Victoria, a beautiful young mortal maiden and niece of the local mayor. Intrigued, he stalks her, but is forced to flee back to Celeste when morning breaks, only briefly exchanging some words with the frightened young woman. Victoria sets out to defeat Damon and decides to investigate the background of the mysterious creature, venturing into the nearby forest and other locations for clues about his past. But things take a turn for the romantic when she falls for him, and tries to help him in his quest to find a potion that will free him from the control Celeste and restore his humanity to put an end to Celeste's reign of terror and save Damon's soul.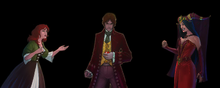 Together, the two of them search the castle for the magic potion that will break the witch's spell and turn him back into a human, as he saves her repeatedly from Celeste's minions. Their symbiotic partnership allows them to protect and empower each other: while his familiarity with the castle and the quirks of Celeste allows Damon to pre-empt risky circumstances to keep Victoria safe and undetected during the day when he is confined to his coffin, Victoria works with tireless determination to unlock most of the magical barriers that keep him enslaved and Celeste in invincible control. In the end, Damon is freed, but Celeste has the last laugh, as she turns Victoria into a vampire.
Community content is available under
CC-BY-SA
unless otherwise noted.