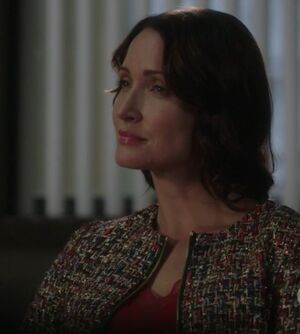 Catherine Cray
(Michelle Nolden) is a recurring villainess from the second season of
Designated Survivor
. She is the wife of notorious arms dealer Darius Cray.
Catherine first appeared briefly in episode 2.05, "Suckers," as she was dining with her husband, Darius, in an early scene. The couple were encountered by Damian Bennett and Hannah Wells, as Darius was suspected of shooting and killing Charlotte Thorne, a member of British Parliament and a potential future Prime Minister. However, it was revealed at the end of the episode that Catherine was the head of the illegal arms business, with her reveal coming after the discovery of €10,000 being transferred into an account that only she had access to. Video of Darius moving guns on the day of Thorne's murder absolved him of the crime, but Catherine became their new main suspect.
In the following episode, "Two Ships," Catherine (with her lawyer present) was interrogated by Hannah and Damien with the charges against her, with the villainess denying killing Thorne. It was at that moment that Thorne's aide, Peyton Lane, appeared on video reading a ransom note, as she was abducted by a pair of men who demanded that Darius be extradited to Malaysia. After Peyton was successfully rescued, Hannah and Damien resumed interrogating Catherine, who denied the kidnapping plot in spite of evidence proving that she was the mastermind behind it. However, the evil Catherine later admitted to running the business, but stated that she didn't kill Thorne due to the fact that Thorne's obsession with taking down Darius benefitted her. She stated that Darius was merely a ploy and used to distract Thorne, and after this, Catherine was (presumably) arrested (off-screen) for running her operation.
Michelle Nolden also played psychotic villainess Laura Stevens, in the Lifetime film, Running For Her Life.
Community content is available under
CC-BY-SA
unless otherwise noted.