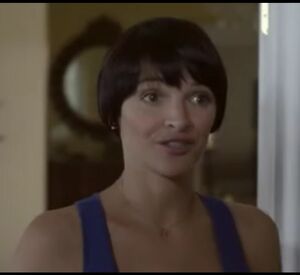 Carrie Remington (Boti Bliss) is the main villainess from the 2011 Lifetime film, The Perfect Roommate.
Backstory
Edit
Carrie grew up in poverty, and was the target of bullying from her wealthier classmates, causing Carrie to grow up longing to escape her meager upbringing by any means necessary. Carrie was married to construction business owner, Marty Remington, but before the film's events, she and her longtime cohort, Anna Prieto, colluded together to take control of Marty's fortune. Carrie had Anna kill Shay Benson, Marty's mistress, and frame him for the murder. In the very beginning of the film, Marty is shown being arrested for Shay Benson's murder. Carrie's evil plan failed, however, when she learned that Marty had squandered most of their money in business deals.
Nearly a year later, Carrie continues her job as a struggling waitress when she reads an article centering on wealthy Richard Dunnefield. Carrie began planning to hook up with Richard and obtain his wealth, beginning with befriending his daughter, Ashley, and becoming her roommate. After learning about Ashley's allergy to fish and shellfish, Carrie laced Ashley's lunch with fish sauce, which made her nearly deathly ill. Carrie's plan led to Ashley being hospitalized, where she finally met Richard.
However, Carrie's plan to become Richard's lover was slightly snagged when she met Paula Wickless, Richard's ex-girlfriend--though they appeared to be on the verge of getting back together. Seeing Paula as a serious obstacle, Carrie approached Anna and convinced her to eliminate Paula, which she does by killing her. With Paula gone, Carrie successfully engaged in a relationship with Richard, much to the consternation of Ashley, whose attempts to contact her father about Paula while he and Carrie are away at one of Richard's hotels are thwarted by Carrie, who disconnects the phone in their room.
In the film's climax, Carrie received Ashley's message regarding her car quitting on her, and drove to a gas station to pick her up--though she planned to eliminate Ashley. By then, Ashley had figured out Carrie's evil schemes and confronted her, only for Carrie to deny everything at first. Carrie later snapped at Ashley, accusing her of being spoiled and unappreciative before she grabbed a broken bottle and attempted to kill her. During the chase, Ashley spotted an oncoming police car and called for help. Carrie attempted to claim that Ashley had attacked her, but she is eventually exposed. After everything else was revealed, Carrie and Anna were both arrested for conspiracy to commit murder. The final scene of the movie shows Carrie in her prison cell, cutting out newspaper articles of another wealthy man.
Boti Bliss later appeared as psychotic murderess Judith Lanfranco on Bones, as well as another Lifetime villainess, Jane Cunningham, in 2015's A Teacher's Obsession.
Community content is available under
CC-BY-SA
unless otherwise noted.