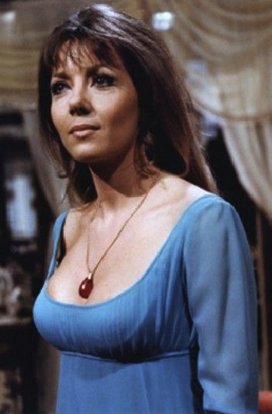 Carmilla Karnstein (Ingrid Pitt) is the main villainess in the 1970 British Hammer Horror film, "The Vampire Lovers".
Carmilla first appears as Marcilla, a girl who is left by her mother in the care of General Spielsdorf (Peter Cushing) and his family in Styria, now part of Austria.
Marcilla quickly befriends the General's niece, Laura (Pippa Steel).  Laura suffers from nightmares that she is being attacked, and dies of a gradual sickness.
After the death of Laura, Marcilla's mother fakes a carraige break-down, and leaves her daughter at the residence of a Mr. Morton.  She is now going by the name of Carmilla, and she seduces Morton's daughter Emma (Madeline Smith).  Emma soon suffers nightmares of penetration over the heart, and her breast shows tiny wounds.  Emma's governess, Mademoiselle Perrodot (Kate O'Mara) becomes Carmilla's accomplice.  The butler and a doctor suspect them, but Carmilla is able to kill each of them.  
Having killed the butler, Carmilla takes Emma prisoner and departs.  When Mademoiselle Perrodot begs Carmilla to take her too, Carmilla kills her.  
Emma is rescued by a young man named Carl, and Carmilla flees to her ancestral castle, now a ruin.  All of this coincides with the arrival of the General, who brings a now-aged Baron Hartog.  They find Carmilla's grave, which reveals that her true name is Mircalla Karnstein.  The General forces a stake into Carmilla's heart, and cuts off her head.  Thereupon Carmilla's portrait on the wall shows a fanged skeleton instead of a beautiful young woman.
Trivia
Gallery
Community content is available under
CC-BY-SA
unless otherwise noted.