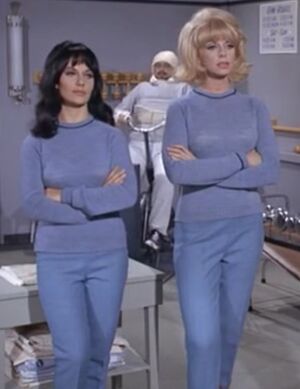 Carla played by Tanya Lemani (b.1945) and Rhonda played by Patti Gilbert (1931 - 2011), are the minor villainesses from "Survival of the Fattest," episode 1.15 of Get Smart (airdate December 25, 1965). They are KAOS agents and the henchwomen for fellow evil KAOS agent Mary "Jack" Armstrong.
We first see Carla, the exotic brunette, as she is belly dancing for the Prince Sully of Ramat (Dan Seymour) in his hotel room.
The trio kidnapped Prince Sully from his hotel room, and as shown later in the episode, they placed him on a reducing machine. Their plan was to get him to lose weight, which would cripple his country's economy; the country's wealth is dependent on his girth.
After releasing Maxwell Smart from his capture, Rhonda is given an offer from Max to help him escape. However, Rhonda informed Mary about Max's plan, and she and Carla were instructed by Mary to lock him in the steam room. Instead, Max fought off the villainous pair and sent them inside the steam room, along with Mary. The villainesses escaped and attempted to send Max hurtling out a window, only for Control to enter and take Carla and Rhonda (along with Mary) into custody.
Tanya Lemani appeared as Mercedes Crios in the 1969 episode "38-23-36" for the TV series "It Takes a Thief".
"Survival of the Fattest" was Tanya Lemani's only appearance on the series.
Patti Gilbert appeared as henchwoman Shirley in the 1967 episode "The Unkindest Tut of All" in the TV series "Batman".
Patti Gilbert appeared as the evil secretary Miss Magruder in the 1968 episode "Operation Ridiculous" for the TV series "Get Smart".
Community content is available under
CC-BY-SA
unless otherwise noted.