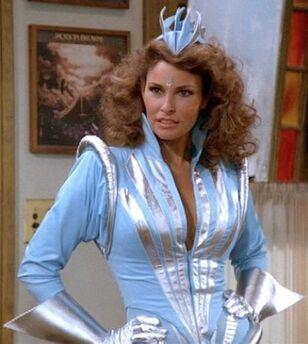 Captain Nirvana of the Necrotons is the antagonist in the 1979 TV series of "Mork & Mindy", in which she appeared in a two part episode entitled, "Mork vs. The Necrotons". Captain Nirvana was played by the beautiful actress, Raquel Welch.
Captain Nirvana is the Captain of the Black Army, from the race of sultry women from the planet Necroton. They have come to invade and destroy Earth. She arrived with her two gorgeous henchwomen, Kama (Debra Jo Fondren) and Sutra (Vicki Frederick). They kidnap Mork (Robin Williams) and take him back to their ship in order to interrogate and torture him. This is done in what is called the spaceship's chamber of pleasures. She does this with her natural charms, which are quite impressive. She wore a baby-blue outer space version of a Vegas Showgirl outfit. This included silver thigh high boots, silver opera gloves, a blue and silver hat dressing, and silver streaks that made a V-shape near the opening of this leotard type outfit. Later in the episode, she took off the upper portion of the outfit, which left a sleeveless plunging skin tight top that struggled to contain her massive breasts.
Captain Nirvana attempted to suck out Mork's brain, but she eventually developed a crush on him. This doesn't work, so Captain Nirvana has Kama and Sutra take Morks "pet" Mindy (Pam Dawber) hostage to use as bait, and ultimately plans to suck out her brains.
At the end, she allows Mork to run away because she realizes that is what a "friend" would do. She puts her henchwomen, Kama and Sutra into a giant bird cage. When Mork asked what she planned to do with them, she responded that "I'm gonna try to teach them what you taught me, but if that doesn't work, I think I'll have them stuffed." This is where they remain at the end of the show, when Mork and Mindy are allowed to leave the space ship.
Raquel Welch appeared as Lillian Lust in the 1967 satirical comedy movie 'Bedazzled'.
Raquel Welch appeared as the Priestess of the Whip in the 1969 British satirical comedy film "The Magic Christian".
Raquel Welch later played villainess Diana Stride on Lois & Clark, and also appeared as the evil Vina Navarro on CSI: Miami.
Raquel Welch appeared as the villainous Vina Navarro on CSI: Miami.
Raquel Welch also made a memorable appearance as a villainess on Seinfeld.
Community content is available under
CC-BY-SA
unless otherwise noted.