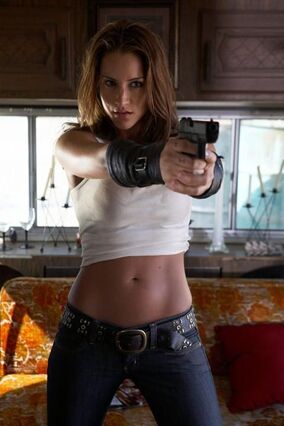 Camero (America Olivo) is the secondary antagonist of the 2009 action film Bitch Slap.
Camero was a psychotic drug dealing ex-convict. During her time in prison, she met Hel, a secret agent employed by a man named Phoenix. The two became brief lovers and decided to become accomplices in a task to locate a secret stash of diamonds belonging to a dangerous crime lord. The two, along with a woman named Trixie, kidnap notorious gangster Gage in an effort to locate the diamonds. The trio bring him out to a remote desert location where they attempt to interrogate him, hoping that he will reveal the location of where the diamonds are buried. Camero eventually decides to personally execute Gage against the wishes of Hel.
Things become much more serious when Camero attempts to steal the diamonds for herself, betraying both Hel and Trixie. After a failed attempt to kill them both, Hel nearly kills Camero when the former blows up her car with a rocket. Camero manages to survive, however the diamonds are destroyed in the process. With the diamonds gone, Camero loses her sanity and fights to kill both Hel and Trixie. After Hel is knocked unconscious, Camero decides to rape Trixie, but before she could do, she realizes that Trixie was a secret mysterious lover of hers from her past. Enraged, Camero decides to kill Trixie with a samarai sword, only to be shot to death by Deputy Fuchs.
America Olivo also played The Girl in the 2009 film, Neighbor.
America Olivo also portrayed villainess Rebecca Carson in the 2013 episode "The Big Snag" from the TV series Warehouse 13.
Community content is available under
CC-BY-SA
unless otherwise noted.