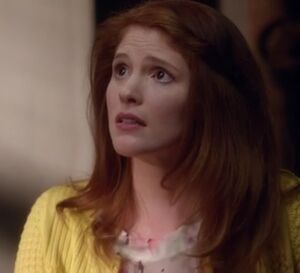 Caitlin MacCarthy (Erin Chambers) is the main villainess from Rizzoli & Isles' fifth season opener, "A New Day" (airdate June 17, 2014). She is the girlfriend of Ray Murphy, who is divorced from his wife, Susan, but shares custody of their infant son, Brian.
However, Caitlin had always been late bringing Brian back to Susan, and at one point, Caitlin informed Susan that Brian doesn't want to return to her. Meanwhile, Ray had also been behind in alimony payments, and all of those factors prompted Susan to file for sole custody of their son. Seeing Susan as a threat to her and Ray, Caitlin colluded with her lover to kill Susan.
Late one night, the evil Caitlin attacked and killed Susan while she and Brian were jogging at a park, doing so by stabbing Susan three times with a knife, followed by 13 additional stabs after the murder. The villainess took Brian and placed him in a nearby church, all the while, Ray helped provide an alibi by claiming that he and Caitlin were 90 miles away--taking Caitlin's cellphone as part of the plan. However, video of Ray being by himself at the gas station with Caitlin's phone gave them away, and during her interrogation by Korsak, Caitlin stated that she wanted a lawyer. After Korsak and Rizzoli found Brian, Caitlin was placed under arrest for Susan's murder.
Erin Chambers also played villainess Kat Curtis on Bones.
Community content is available under
CC-BY-SA
unless otherwise noted.