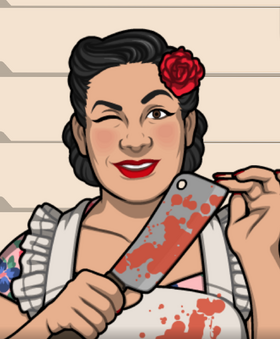 Butcher Betty
is a minor secondary villainess from "Bridge over Troubled Water", case #31 of 
Criminal Case: Mysteries
of the Past
,
the 4th season of the crime solving game 
Criminal Case 
(release date June 22, 2017). She was a butcher who owned her own slaughterhouse, where taxicab driver Thomas Boyd was found strung up and gutted to death.
Betty quickly showed herself to have an abraisve and somewhat callous attitude, with her indifferent attitude towards Thomas's gruesome murder causing her to be viewed as a suspect by Maddie O'Malley. This stance was strengthened when archivist Evie Holloway had a run-in with Betty outside the Concordian Flying Squad airship, with Evie revealing how Betty had chased her with a butcher knife (though Betty claimed she was simply trying to calm her down after seeing how distressed she was).
Betty was ultimately proven innocent in Thomas' murder when his ex-lover and Italian gang member, Margherita Morello, was proven to have committed the crime. But when the murderess was put on trial, Margherita revealed that Betty had helped her hide Thomas' body, as well as how she'd been doing favors for the gang for years. After Margherita's sentencing, Betty was confronted by the player and Maddie, to which the villainess claimed that she only worked for the gang to appease the Italian gangsters and that her favors for the gang were usually to hide packages for them, not dead bodies. Betty was placed under arrest, and later sentenced to five years in prison for her role in Thomas Boyd's murder.
Community content is available under
CC-BY-SA
unless otherwise noted.