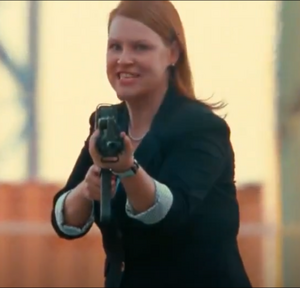 The unnamed Businesswoman (Audrey Wasilewski) was a villainess from the 2010 action film, Red. She first appeared closely behind the trio of Frank Moses, Sarah Ross, and Marvin Boggs, who later grabbed the woman and held her at gunpoint. Marvin had believed that the woman was sent to kill them, but Frank's search of the woman's purse disproved Marvin's claim.
As it turned out, however, Marvin's hunch was correct, as the businesswoman was revealed as an evil assassin, as she fired shots at the group while referring to Marvin as an "old man". The villainess was one of a pair of assassins who were shooting at them, and after the male shooter was killed, the evil businesswoman fired a rocket launcher at the trio. Angered over the female assassin's disrespect, Marvin engaged in a head-to-head showdown with the villainess, who fired her rocket launcher a second time while Marvin fired his gun. The bullet went through the rocket, causing it to explode and kill the villainess.
Audrey Wasilewski previously lent her voice to the villainous Laura in 2000's Scooby Doo and the Alien Invaders.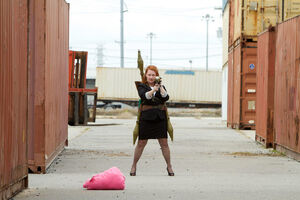 Community content is available under
CC-BY-SA
unless otherwise noted.