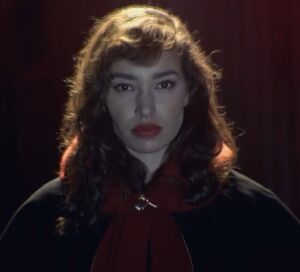 The unnamed 
Brunette Red Riding Hood 
is the main villainess from Blasterjaxx's 2014 music video, 
Mystica
.
The video has Blasterjaxx heading to a party when they first see the mysterious brunette near a railroad. She is later seen at a nightclub frequented by the group, flashing a seemingly creepy smile. During the progression of the video, the brunette hides in ambush as the group walked inside an isolated area, and this leads to the villainess chasing after the trio, who realize that she had villainous intentions.
In the video's final moments, the evil brunette abducts one of the group members and brings him to a pair of men she had already kidnapped and chained up to a fence. The video ends with the villainess flashing yellow, animalistic eyes, which revealed that she is a werewolf.
Community content is available under
CC-BY-SA
unless otherwise noted.