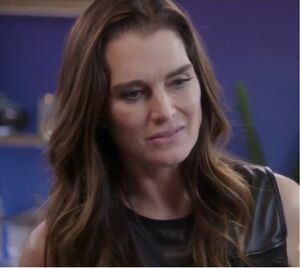 Brooke Shields
appeared as the main villainess in episode 2.03 of 
Nightcap
:  "What Would Staci Do?" (airdate June 14, 2017). In the episode, Brooke and Kelly Rutherford are the guests on the late night show, 
Nightcap with Jimmy
, with the former meeting head talent booker Staci Cole.
Brooke and Staci are having drinks together and conversing, with Kelly joining them later on. However, as the episode progressed, Brooke's sinister and psychotic demeanor began to surface, as she forced both Staci and Kelly into continuing to drink with her, preventing them from leaving. She then started doing an infamous knife trick (involving moving the knife between her fingers in a rapid pace), and also mocked Kelly for being a "goody-two-shoes" and dared her to punch her face, while threatening to punch Kelly herself. Staci's attempt to take Kelly out of the situation led to both Staci and Brooke accidentally knocking her out.
Believing that they've killed Kelly, the evil Brooke forced Staci into helping her get rid of the body, doing so by threatening to turn in Staci--while saying that Brooke herself would never be believed as a killer due to her celebrity status. The pair covered up Kelly in a rug and carried it out of the room, and while doing so, Brooke even considered killing a young girl (one of Jimmy's many biological children) who encountered them. The diabolical villainess continued her threats in response to Staci's protests, but at episode's end, Kelly finally woke up, confirming that she was simply knocked out. Brooke walked off with Kelly, all the while warning Staci to keep quiet about what occurred--threatening to kill her if she talked.
Brooke Shields later played recurring character turned villainess Sheila Porter on Law & Order: SVU.
Community content is available under
CC-BY-SA
unless otherwise noted.