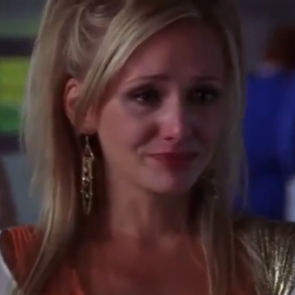 Bridgette Sparks (Amy Grabow) was a minor villainess from "Luck Be A Lady", episode 5.02 of Crossing Jordan (airdate October 2, 2005). She was an employee of the Montecito Casino in Las Vegas, working as a showgirl. She was also revealed to be a thief, as prior to the episode's events, she stole $40,000 from notorious crime boss Jimmy Ning.
Later on, after Ning found out about Bridgette's theft, he ordered her to assist him in his plot to assassinate the Chinese ambassador. Her assignment was to set fire to the corpse of Graham Rittenhaur, who was in the Boston morgue.
To gain access to the corpse, Bridgette posed as Graham's grieving wife at the morgue and asked to be left alone with her "husband". Once everyone was gone, the evil Bridgette covered the sprinklers before dousing Graham's corpse with methyl benzene and lighting it on fire. After smelling the smoke, the morgue staff rushed into the room, with Bridgette holding them back with the blow torch. Despite Jordan's attempts to calm down the despondent Bridgette, she tearfully stated that Jimmy would find her and kill her before opening the nearby window and jumping to her death. Bridgette's status as a greedy thief was revealed posthumously by Danny McCoy, a security employee at the Montecito Casino.
Community content is available under
CC-BY-SA
unless otherwise noted.