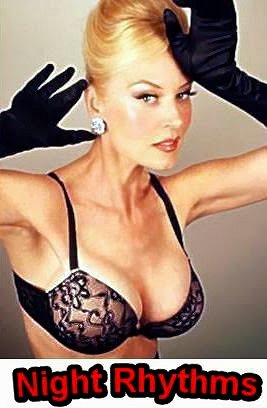 Bridget (Delia Sheppard) is the hidden villainess in the 1992 film "NIGHT RHYTHMS".
In the film, Nick West (Martin Hewitt) is the seductive-voiced host of a late-night radio talk show. After hours, he meets many of the women who have called in and helps them first-hand with their sex problems.
Then, one night he wakes up in the studio with his latest conquest Honey (Tracy Tweed) dead, the murder having been broadcast over the air. He evades the law to try to find the real killer.
As it turns out, his producer Bridget, killed the girl, putting it over the air to throw the guilt on Nick, who she wants to get rid of. Bridget has always been cold toward Nick and he finds out she is a hot lesbian, with the help of an exotic dancer, Kit (played by porn star Jamie Summers) who gets herself picked up by Bridget. Nick watches their hot lesbian scene through a window. Finally, Bridget is arrested at the radio station.
Linda (Julie Strain), Cinnamon (Deborah Driggs) and Alex (Erika Nann) are just three of Nick's sex partners that are seen more in the uncut softcore version which is 17 minutes longer than the cable version.
Delia Sheppard appeared as Karen in the 1992 film, Rocky V.
Delia Sheppard appeared as the evil scientist Dr. VanHelm from the 2009 movie, Vampire In Vegas.
Community content is available under
CC-BY-SA
unless otherwise noted.