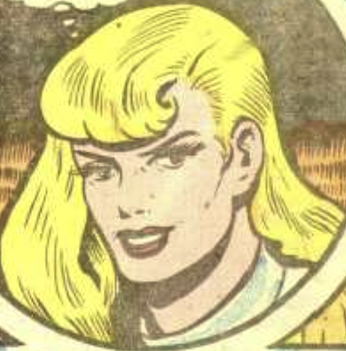 Brette Winston was the villainess in the 1948 episode "The Revenge of the White Shrew!" for Jo-Jo Comics #14.
Brette Winston shot a charging rhino that was about to run over Tanee.  For this, Jo-Jo The Congo King thanked her for saving the life of his mate.  He found that she was a film producer shooting a movie in the jungle.  Brette flirted with Jo-Jo, and this did not go over well with her partner Buschmann, who got jealous.
Jo-Jo received word that a local village was being trampled by elephants.  Brette used the opportunity to try to take out her rival Tanee.  As they were running, Brette flung Tanee into an elephant trap pit.  However, she herself was forced to fall into the pit by a charging elephant.
As Jo-Jo saved the village from the elephants, Brette and Tanee were in the pit tangling in a catfight.  Brette planned to cut a small slit in her throat with a knife and then allow the elephants to trample her.
However, both women were abducted by a pack of Guwanee Gorillas.  Jo-Jo attempted to help out and he was knocked out.  The Gorillas led their captors to Hades Well, a hot springs, and held Jo-Jo in binds.
At the boiling water springs, Brette noticed that the gorilla was speaking.  She lifted off the mask, and it was Buschmann.  However, all of the sudden, the two embrassed, which was a shocking site to Tanee and Jo-Jo.  As Bushmann filmed, the rest of the Guwanee Gorilla men led Tanee to the boiling water.  They planned to make a killing for filming a Guwanee Fire Sacrifice.  
Jo-Jo was able to break free and attacked the gorillas.  When Buschmann attempted to flee, Brette knocked him over the head with a rock.  She then attempted to play the victim for Jo-Jo.  When she met Jo-Jo, she told him that he played along with Buschmann so that it would give him time.  However, Tanee informed her of her evil ways.
Suddenly, Buschmann shot his rifle hitting Brette in the chest.  She went backwards into the boiling water.  The Guwanee Apes sought justice for her slayer by chasing Buschmann into the jungle.
Community content is available under
CC-BY-SA
unless otherwise noted.