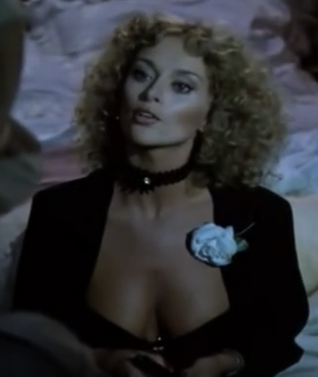 Brenda (Sybil Danning) was an antagonist in the 1980 Italian detective thriller "Day of the Cobra", which was originally titled "Il Giorno del Cobra".
An American narcotics agent is murdered in Italy.  The head of the department, Jack Goldsmith (William Berger) decides to hire Larry Stanziani (Franco Nero), known as "The Cobra".  Larry is a former agent and now a third-rate private detective living in San Francisco.  He is sent to Genoa, his hometown, and uses the opportunity to get even with an old enemy.  He soon finds out he's facing a relentless organization.
He detects a homosexual drug dealer and murderer named Kandinski, who is also responsible for Larry earning a three-year stay in prison.
Larry gets romantically involved with Brenda, a discotheque DJ.  At the end of the film, she turns out to be a villainess, and has been working with the organization.  As she pulls out a gun to kill him, she is surprised to be killed herself while in an embrace with Larry.
Community content is available under
CC-BY-SA
unless otherwise noted.