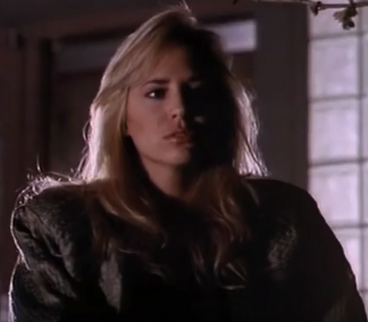 Bree (Sherrie Rose) is a minor antagonist in the 1991 action film "Martial Law II: Undercover".
Det. Sean Thompson (Jeff Wincott) and Billie Blake (Cynthia Rothrock) are undercover cops and martial arts masters.  They investigate the death of a cop, and uncover a deadly ring of murder and corruption at a glitzy nightclub where the rich are entertained by seductive women and protected by martial arts experts.
Bree is one of those martial arts experts who serves as a personal assistant and henchwoman for Spencer Hamilton (Paul Johansson).
In one scene, Spencer has Bree and the other henchmen beat up one of his rivals.  She is told to make it look good, so after beating him up, she grabs a bottle of whisky and forces it down his throat.
At the end of the film, a transaction goes awry, and Bree and Billie engage in a fight.  Bree runs up some stairs and is kicked off a ledge where she falls to her death.
Sherrie Rose appeared as Belle Crocker in the 1990 episode "Ghost in the Machine" for the TV series "The Flash".
Sherrie Rose appeared as Aftershock on the 1996 B-movie "Black Scorpion II: Aftershock".  She later reprised her role in the 2001 TV series "Black Scorpion", which she appeared in four episodes.
Community content is available under
CC-BY-SA
unless otherwise noted.