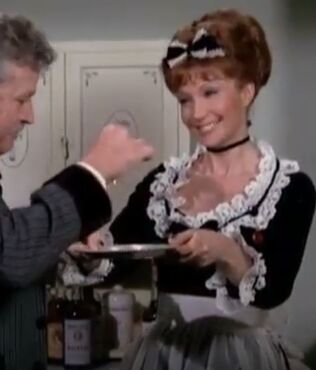 Brandy (Francine York) is a minor antagonist in the 1975 episode "An Iron-Clad Plan" for the TV series "Barbary Coast".
Brandy is one of two henchwoman, including Abigail McKay (Louise Sorel), who work for a local bigshot criminal.  They are attempting to steal the plans for a new experimental iron-clad submarine.  They plan to shut down the Golden Gate.
Brandy serves as an inside agent dressed as a French Maid in the home of the criminal to obtain secrets from his guests.
Jeff Cable (William Shatner) and Cash Conover (Doug McClure) go undercover as foreign agents in an attempt to steal the plans back.  
Brandy at one time drags a knocked out soldier who has been snooping around the house.
In the end, the thieves are arrested including Brandy and Abigail.
Community content is available under
CC-BY-SA
unless otherwise noted.