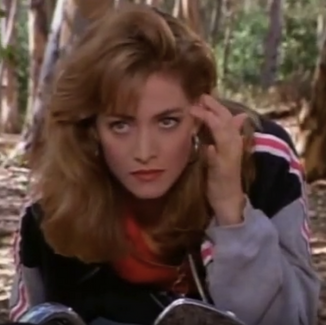 Bonnie Treadwell (Mary Ellen Stuart) is an antagonist in the 1993 episode "Bonnie and Claire" for the TV series "Renegade".
Bonnie and her partner Claire Treadwell (Claire Yarlett) are sisters who are financing a trip to Tahiti by robbing banks.
Reno (Lorenzo Lamas) and Bobby Sixkiller (Branscombe Richmond) pursue the girls as bounty hunters.  Reno tracks Bonnie down in a bowling alley where she is working, and takes her by force into custody.  Reno straps handcuffs on her and the two head out back to San Diego on his motorcycle.
When they arrive at Bonnie's home, Reno is knocked out by a shouvel by Claire from behind.  Reno is tied up to a chair and is later rescued by Bobby and Cheyenne Phillips (Kathleen Kinmont).
Bonnie and Claire are then seen with wigs on as they rob another bank.  Before getting away with the cash, Bonnie humiliates the security guard that they were able to get to open up, despite it being after hours.
Bonnie makes the mistake of using a credit card in Yuma, Arizona, despite the fact that they had thousands of dollars in cash.  As a result, Reno was able to track their location.  
Bonnie was tackled and handcuffed by Reno while running from the hotel bar.  Claire was able to escape by punching Bobby, and then was kidnapped by her as well.
Claire arranged for a hostage exchange.  Afterwards, they faked car trouble, and used their assets to steal another car to get away.
Bonnie and Claire then arrived in San Diego, where they got their money out of the safe deposit in the bank.  They then were met in the parking lot by Bobby and Reno.  However, they escaped by car and headed to the marina to take their boat to Tahiti.
When Reno and Bobby arrived, they were already on their boat and were headed out of the marina.  Reno raised his gun, but Bonnie taunted him saying that he couldn't hit a girl.  Reno acknowledged that the statement was true, but Cheyenne was a different story.  Just then, Cheyenne appeared in the cabin below and knocked out Claire with a punch and kick combination.  Bonnie then got into a catfight with Cheyenee, and got knocked out into the water.
Community content is available under
CC-BY-SA
unless otherwise noted.