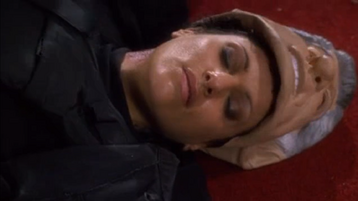 Bonnie Parazzo (Diana Terranova) was a minor villainess from "Wrong Place, Wrong Time", episode 1.11 of Crossing Jordan (airdate January 7, 2002). She was one of two people enlisted by Ryan Wheeler to kill his wealthy wife Sydney Raines Wheeler so he could inherit her money.
The trio arranged to commit the murder under the guise of a bank robbery gone awry, with Bonnie and her accomplice (later identified as Leon Muntz) donning the masks of George Bush, Sr. and Bill Clinton (with Bonnie wearing the latter). Along aiding in the plot was George Driscoll, a guard at the First Bank of Boston.
Bonnie and Leon went through with their plan, with the latter succeeding in killing Sydney, but also accidentally shot and killed Bonnie as well. The deceased Bonnie was later unmasked at the scene of the crime by Dr. Jordan Cavanaugh, with her identity being uncovered soon after by Detective Woody Hoyt.
Community content is available under
CC-BY-SA
unless otherwise noted.