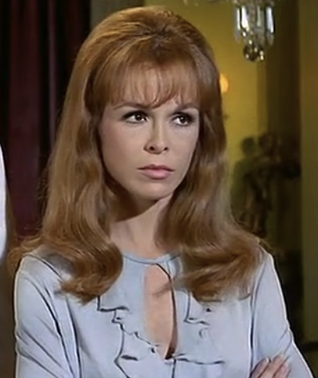 Bohrman (Diahn Williams) is a spy in the 1969 episode "Smart Fell On Alabama" for the TV series "Get Smart".
Bohrman was a KAOS agent and companion of Colonel Kyle K. Kirby.
Agent Maxwell Smart first encounters Bohrman when she is delivering KAOS's new codebook hidden taped to her chest.  The train is bound for KAOS's Southern headquarters at Col. Kirby's plantation.  
It is Smart's job to steal the appropriate book and substitute it with a fake one.  Smart is helped by the train's porter, who is a CONTROL agent really named Porter.  Porter takes a drink to Bohrman's cabin that contains a knockout pill that will render her unconscious.  He then waits in his cabin listening to hear the drug take effect.  When he hears the glass break and a thud in the cabin next door, he knows that Porter was successful.
However, Smart was unaware that Bohrman was a woman.  When he opens the cabin door to find a beautiful woman lying on the bench, he finds himself too much of a gentleman to complete the assignment.  Therefore, he allows Bohrman to arrive safely at Col. Kirby's plantation to make the switch of the codebook.
Smart then went to Col. Kirby's plantation with a team of rehabilitated prisoners.  While trying to rob the Colonel's safe, he was discovered and held at gunpoint by Kirby and Bohrman.  Smart was ordered to dance while Kirby used his bullwhip at his feet.  Smart was able to catch the end of the bullwhip and pull the Colonel into the safe, knocking him out.  When Bohrman went to see how the Colonel was, Smart took her gun from her.  It is assumed that Col. Kirby and Bohrman were taken into custody by CONTROL.
Diahn Williams appeared as Miss Van Cleef in the 1967 episode "That Old Gang of Mine" for the TV series "Get Smart".
Community content is available under
CC-BY-SA
unless otherwise noted.