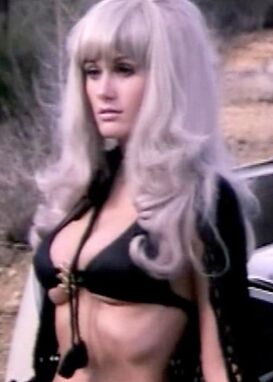 Blonde in Bikini (Robyn Hilton) is a roadside robber in the 1974 exploitation film, "Mean Mother".
In the movie, the blonde plays a damsel in distress on the side of the highway.  She is dressed in a skimpy black bikini with a black cape who is supposedly broken down in a yellow Jaguar.  When Beauregard Jones (Dobie Gray) stops to help her, the blonde pulls out a pistol and attempts to rob the hero.
However, Beauregard is able to wrestle the pistol from her and then takes off her cape as he pins her down on the hood of his own car and teases her.  Then before leaving, he tells her at gunpoint to turn around.  He then removes her bikini top, throws it in his car and drives off.  All the blonde is able to do is try to hold her well endowed figure with her arms.  As Beauregard drives away, she is left shaking her fists at him in anger.
Robyn Hilton appeared as Miss Stein, the governor's (Mel Brooks) busty secretary in the 1974 movie, "Blazing Saddles".

Robyn Hilton appeared as Karen in the 1975 action film, "Doc Savage: The Man of Bronze".
Robyn Hilton appeared as spy Maid Marian in the 1985 film "Malibu Express".
Community content is available under
CC-BY-SA
unless otherwise noted.