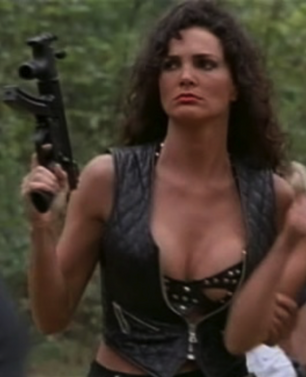 Black Widow
(Julie Strain) is the co-primary antagonist and leader of a small team of assassins in the 1994 film "The Dallas Connection". 
Black Widow is the head assassin, who wears an assortment of bondage themed outfits and skirts that fail to reach as far as her stocking tops.  She is joined by fellow hitwoman Cobra (Julie K. Smith) and Scorpion (Wendy Hamilton).
Throughout the world, esteemed scientists are assassinated right before a major scientific convention in Dallas.  The killing spree has to do with the International World Arms Removal project, a sophisticated state-of-the-art satellite system which has the ability to detect any weapons however big or small, under the most difficult conditions.  
For fear of being targeted, scientist Antonio Morales (Rodrigo Obregon) asks for the Agency's protection while on his way to Dallas, a job for Special Agent Samantha Maxx (Samantha Phillips).  
Black Widow is killed in an external explosion.
Julie Strain appeared as Blu Steele in the 1993 action movie "Fit to Kill".
Julie Strain appeared as Jewel Panther in the 1993 action film "Enemy Gold".
EvilBabes Unfiltered
Edit
Full gallery: Black Widow (The Dallas Connection)
Community content is available under
CC-BY-SA
unless otherwise noted.