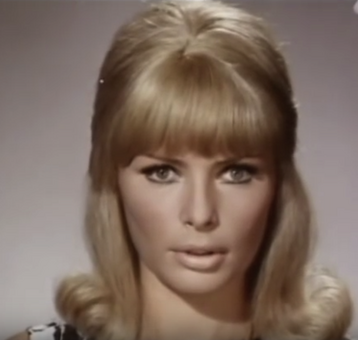 Birgit (Vivi Bach) is a minor villainess in the 1966 Italian-German Eurospy film, "The Spy With Ten Faces". This films original title was "Upperseven, l'uomo da uccidere".
In the film, Paul Finney is a James Bond sort of British agent and a master of disguise by the use of masks.  His codename is Upperseven.  His task is to secure a transport of money for the union of some African states.  An International gang led by Kobras, manages to steal his money and wants to use it for an atomic missle building project.
Birgit is Kobras henchwoman and lover.  In one scene, she is sent to sabotage a factory.  She stays behind from a tour group and secretly pulls out a drill and injects a liquid from a syringe while the others are not looking.
In the end of the film, she wears a full body jumpsuit as the atomic missle complex is under attack from the good guys.  Kobras sends her back into the building to sabotage the machine system.  However, before she can exit the building, it blows up.
Community content is available under
CC-BY-SA
unless otherwise noted.