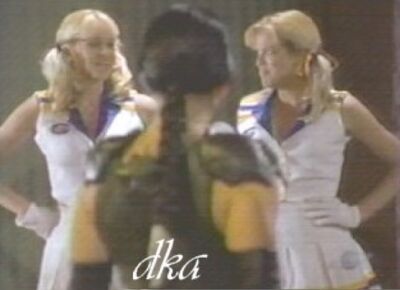 Bipsy and Mopsy
are the secondary antagonists in the 2001 episode "Bad Sport" for the TV series Black Scorpion.
Bipsy (Becky Mullen) and Mopsy (Gretchen Stockdale) are the minions of the main antagonist Ricky Blade AKA Slapshot (Greg Boyd).  The two are dressed in white cheerleader outfits with blue and gold trim throughout the episode.  They each have blonde hair and wear it in pigtails.
Ricky Blade is Det. Steve Rafferty's (Scott Valentine) former college buddy who after graduating went on to join the pros. 
The greedy and corrupt Mayor Artie Worth (Robert Pine) tries to bribe Ricky into losing the big game, but he refuses. So he asks his teammates to make sure that he loses. They realize that the only way Ricky will lose is if he is injured. So they injure Ricky but also paralize him.
Ricky is visited in the hopsital by a mysterious Dr. Cairo Praktus (Charles Fleischer) who offers him a metalic armor that will allow him to walk again. Ricky takes the offer, but only has one thing on his mind, revenge. Renaming himself Slapshot,
Blade kills his two former teammates, one of which Bipsy and Mopsy are accomplishes to.  They lure him to the rink telling him they loved the way he played in the last game.  He tells them that he didn't score in the game, but they responds "well you're going to score tonight".  That's when Blade shows up and knocks him back into the goal so hard that the goal entangles his dead body.
Blade tries to elimate Frank Neckenberg (Mike Butters), his final former teammate, but is stopped by Black Scorpion (Michelle Lintel).
After learning that Neckenberg will be playing the next game, Slapshot steals explosives and rigs the Angel City hockey forum with a bomb, which he will detonate when Neckenberg scores goal 4. Fortunalty he is stopped by Black Scorpion and his former partner Steve.
Bipsy and Mopsy are soundly defeated in two separate fights with Black Scorpion, and are arrested at the end of the episode offscreen.
Gretchen Stockdale was a Los Angeles Raiderette Cheerleader for six years during the 1980-90s.
Becky Mullen appeared in many different shows during her career such as in a catfight against Pamela Anderson on Al's bed in an episode of "Married With Children".
Community content is available under
CC-BY-SA
unless otherwise noted.