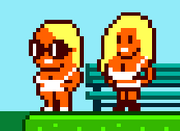 The
Bimbos
(aka Östermalmsbimbos/svennar) are enemies from the 2009 PC game
Pandaland
, a Swedish made platformer.
There are two types of blonde bimbo, and they both dress in short white minidresses and low cut tops. One bimbo wears sunglasses while the other wears boots, but has no sunglasses.
The game is set in Södermalm, Stockholm, Sweden, where you play as "indie pop girl" Amanda Panda who has to rescue her kidnapped friends from an evil lizard called Björn (who looks a lot like Wart from Super Mario Bros 2).
As well as Björn, enemies you have to deal with include "tanned upper-class brats from Östermalm" i.e. the bimbos. The evil bimbos walk back and forth and will hurt you if you touch them. They can be defeated if you throw objects such as cherries at them.
Jonas Eriksson, one of the game's developers, gives this background information to the game: "The game is an 8bit retro homage to a defunct (sort of) indie rock/pop subculture called (in Swedish) Pandor, literally translated to Pandas, because of their look..They were sort of the indiepop/rock outcast "elite" here in Sweden back in..around 2002 and so. The game takes place at real locations in a part of Stockholm called Södermalm, the little bit more artsy part of central Stockholm. Boss and enemies are everything a panda does not approve of (brats, bimbos) and they've taken over our Amanda Pandas favourite parts of Södermalm!"
Swedish model Natacha Peyre (aka Elena Belle) was used as an inspiration for the bimbo enemies.
Community content is available under
CC-BY-SA
unless otherwise noted.