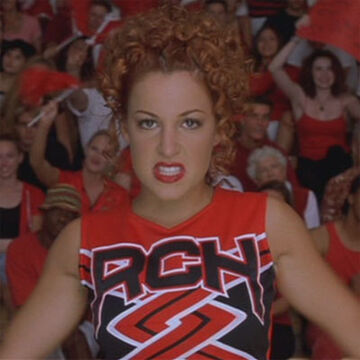 Big Red
(Lindsay Sloane) is the minor main antagonist in the 2000 comedy film "
Bring It On
."
Big Red is the captain of a cheerleader squad called the Toros at Rancho Carnes High School. She is called that by her teammates because of her big red hair.
Prior to the events of the film; Big Red had been going to East Compton High School and videotaping The Clovers performing their cheers and copying them. She elects Torrance Shipman (Kristen Dunst)  as the new captain before graduating and going off to college. Torrance soon learns of Big Red's treachery from new cheerleader Missy Pantone (Eliza Dushku). At the regionals, Big Red berates Torrance for the squad's disastrous performance. When Torrance confronts her over her dishonest actions, Big Red shows no regret for what she had done and justifies it saying she did what she had to to reach nationals. She then insults Torrance saying that her only mistake was not "borrowing" cheers, but announcing her as the new captain. In the end however, Torrance is able to prove Big Red wrong by helping her squad come up with their own entirely original routine. The squad wins second place at nationals and everyone agrees that they are much happier winning second place with their own original routine rather than winning first place with a routine Big Red stole.
"I'm sexy. I'm Cute. I'm popular to boot." Big red in the opening cheer.
Community content is available under
CC-BY-SA
unless otherwise noted.