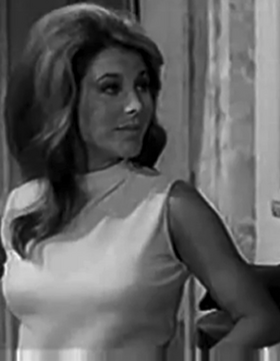 Bianca Andrade played by
Michele Carey
(1943 - 2018) is a supporting antagonist in the 1965 episode 'Balance of Terror' for the tv series
Amos Burke: Secret Agent
. She is a member of a huge gang that smuggles chinese gold into other countries.
Bianca first appears when Burke and Elsa Werner (Susanne Cramer) make their way into the camp. Elsa is helping Burke because she is only doing the work because she loves Franz. Bianca is speaking with Theresa Rao (Lynette Bernay), the evil general's lover. She expresses interest in Burke and says that Elsa isn't his type.
She later appears with Theresa and Elsa sotting at a table by the lake. Elsa expresses gratitude for them lending her dresses. Bianca then states that she wants to get to know Amos, who is pretending to be a part of the gang.
The beautiful Bianca is later seen wearing a bikini having some sunscreen rubbed onto her back with Elsa nearby. Bianca flirtatiously departs to get some cigarettes, and Elsa then mentions that Bianca was formerly an air stewardess before joining the gang.
Later, when Burke's arms have been scalded by a would-be assassin, Bianca helps him rub some healing ointment in and the two make love 'without using their hands.' A man comes in the room and takes Burke to see the general.
When Burke, Elsa and Franz are planning to escape, Bianca appears in Amos' room and makes love to him. This is abruptly stopped by Burke, who leaves the room, saying that something important is about to happen.
She is later seen when Burke, the General, Theresa and other men leave to carry out a mission. Bianca is seen waving Burke goodbye.
When Elsa and Burke have been found out and Burke is presumed dead, Bianca sticks up for Elsa when she is about to be executed, saying that she was 'forced to.' The general sends her out the room, and this saves her life when Burke's men come through the door and shoot at the General, who dies. Bianca is later seen arrested outside, and Burke takes care of her personally. He says to her that she will get a lesser sentence if she reveals other operatives, but it is unknown what she does.
Michele Carey appeared as Gerda Scharff in the 1967 episode "The Night of the Feathered Fury" for the TV series "The Wild Wild West".
Community content is available under
CC-BY-SA
unless otherwise noted.