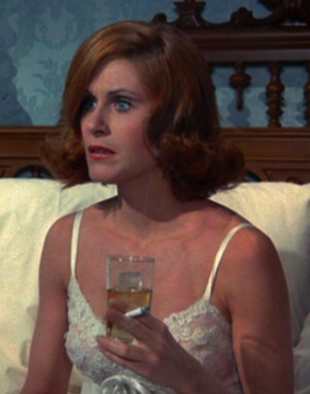 Beth Chadwick (Susan Clark) is the main antagonist in the 1971 episode Lady in Waiting for the TV series "Columbo".
Beth Chadwick had lived with her father and brother Bryce (Richard Anderson). Beth's father was very overbearing and wouldn't let her have any fun. After he died her brother Bryce later became overprotective of her and even threatened to have her boyfriend Peter Hamilton (Leslie Nielsen) fired from his business  unless he broke up with her.
Beth decided to get rid of her brother in order to be with Peter. Beth changed the front porch light bulb and replaced it with a bad light bulb so Bryce wouldn't see his keys in the dark. Beth's original plan was to have Bryce break into the house through the back porch, then she would shoot him. Therefore, the police would believe that she had mistaken him for an intruder.  
That night Bryce did come home, and he came through the front door by using his spare key, but Beth decided to go ahead with her plan. She shot Bryce and turned on the intruder alarm just as Peter was arriving to confront Bryce. Beth pretended to be  traumatized.
Lt. Columbo (Peter Falk) was on the case. Questioning Beth on  why there were no grass stains on the shoes her brother was wearing the night she accidently shot and killed him.  Beth took control of her late brother's company.  
Columbo visited Peter in a bar asked him if he remembers something he said the night of the murder. Columbo arrived at Beth's house to arrrest her for Bryce's Murder which Beth denied at first. Columbo told her that the night she supposedly accidently shot her brother Peter had heard gun shots before hearing the intruder alarm. If Bryce had broken in he would have set off the burglar alarm first. 
Community content is available under
CC-BY-SA
unless otherwise noted.