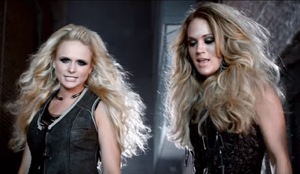 Belle Boyd (Miranda Lambert) and Priscilla Parker (Carrie Underwood) are the main villainesses from Miranda and Carrie's music video, Somethin' Bad (official release date May 19, 2014).
The music video features Belle and Priscilla at a bank posing as employees; though, in actuality, they were planning to rob the bank. The villainous blondes are shown in various montages playing poker and riding Indian motorcycles, and later breaking into the bank's safe deposit boxes and stealing a collection of jewels. Belle and Priscilla both donned ski masks and all black disguises during their heist, though they briefly removed them to admire their ill-gotten loot. The evil beauties escape right before bank later blows up, and the video with Belle and Priscilla fleeing in a luxury Bell Helicopter.
A version of Somethin' Bad has been used in Carrie Underwood's Sunday Night Football intro for NBC since the 2016 season.
Miranda Lambert also played a villainess in her 2011 music video, Fastest Girl in Town.
Carrie Underwood played a tragic villainess in her 2012 music video, Blown Away, as well as a vengeful murderess in her video for Two Black Cadillacs.
Community content is available under
CC-BY-SA
unless otherwise noted.