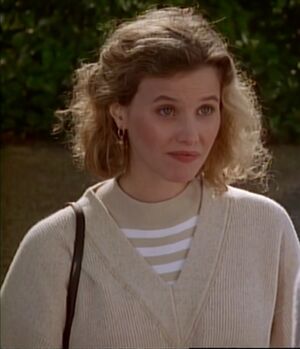 Rebecca "Becky" Smith
(Kim Walker; 1968-2001) is the main villainess from
Matlock
's seventh season finale, "The Competition" (airdate May 6, 1993). She is a piano student whose performance won her a scholarship early in the episode; a scholarship that fellow student Juliet DeLong was vying for.
As revealed later, Becky bribed two of the three judges in order to help her win not only that competition, but another one later in the episode, as her performance in the earlier competition was subpar compared to Juliet's. Juliet found out the truth and confronted Becky at her home with two options: either disqualify herself or her secret will be revealed. Not wanting to give up her scholarship, Becky drugged Juliet and locked her in her grandmother's garage, with clear intentions on killing her. The villainess later started her grandmother's car, and despite Juliet's attempts to escape, the victim ended up succumbing to the carbon monoxide fumes. After Juliet's death, the evil Becky placed her victim's body in the car and drove it to her own garage, making it appear that Juliet committed suicide.
Matlock had learned about the bribery when he interviewed the three judges, with two of them stating that Becky gave a terrific performance. Becky ended up confronted by Matlock regarding Juliet, and denied all of the claims against her. She later allowed Matlock to investigate her grandmother's garage, and she was shocked to find that it was already investigated. Becky gave herself away when she stated that nothing was found and that Juliet's prints weren't in the garage, but Matlock showed her six prints on the handle, all belonging to Juliet as she tried to escape. At that moment, police arrived and arrested Becky (off-screen) for Juliet's murder.
Kim Walker is best remembered for playing Heather Chandler in the classic film, Heathers.
Community content is available under
CC-BY-SA
unless otherwise noted.