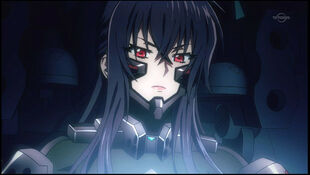 Beatrix Brehme is the main antagonist in the first season of animation Schwarzesmarken.
Chief commander of the armed police army battalion "vault wolf". She is a major who belonged to the Moscow school. Appears to be an aggressive character, and it is the main mission of spies and hunting exiles in the East West Germany border. Iridina is familiar with the age of the Academy. Although he was confronted with the Berlin School of axman, he was actually in cooperation and was looking for Schmidt's true identity. Indeed, she was inclined to the thought of Jurgen Bernhard and felt his ideal to save his country. The idea of sacrificing eastern Germany for the thought that everyone should be cooperative. As a way of realizing it, it was an attitude to justify monitoring and control by stature, so it did not interfere with Theodores until the end.
She continued to fight against Theodore, but when she shot down Sylvia, he was attacked by Walter and lost gunfire. Although it continues to counterattack with the equipment for the close combat, the people disgusted themselves in the control of the stalks, and she was defeated and killed in the battle with Theodore.
In animation
Edit
Doujin Creation
Edit
Community content is available under
CC-BY-SA
unless otherwise noted.