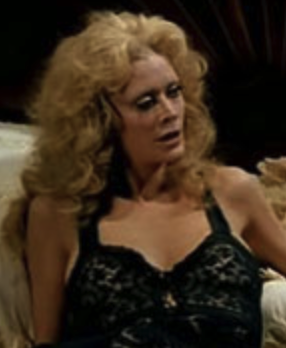 Baroness Katrin Frankentein (Monique van Vooren) is an antagonist in the 1973 horror film "Flesh for Frankenstein".
Baron Frankenstein (Udo Kier) is a neurotic aristocrat married to Katrin, his sister, whom he had two children with, Marika and Erik.  It is a marriage of interest, and the Baroness has an unsatisfied sexual appetitie.
The Baron creates a perfect female zombie, a murdered prostitute (Dalila Di Lezzaro) from a local whorehouse, and does the same with a male one named Sacha (Srdjan Zelenovic).  His plan is to mate them in order to create a master race.
The promiscuous Baroness summons Nicholas, a local peasant, and makes out with him.  Nicholas was friends with Sacha, whom the Baron used for his monster.
When Frankenstein presents his creations, Nicholas recognizes the face of Sacha on a foreign body.  After asking Katrin about her husbands experiments, she explains that she does not know anything about them since she is forbidden.
Nicholas penetrates the secret lab and discovers the butchery where human organs are all over the place.  
Baron Frankenstein's plans fail, when his male zombie refuses to kiss the beautiful female creature.
Katrin makes an offer to her husband.  In exchange for being able to continue her sexual relationship with Nicholas, she agrees to entertain sexual relationships with the male zombie.
Nicholas in the meantime, attempted to leave the castle with Sacha, and is captured and linched.
The monster, badly interested in sex, squeezes the Baroness until she is killed.  The Baron then orders the male monster to find Nicholas and kill him.  However, he instead turns on the Baron and kills him before committing suicide.  The film ends, with indications that the Frankenstine children plan to continue the work of their father.
Monique van Vooren appeared as Lyra, the She-Devil in the 1953 film, "Tarzan and the She-Devil".
Monique van Vooren appeared as Plethora in the 1967 film "Fearless Frank".
Monique van Vooren appeared as Miss Clean in the 1968 episode "Penguin's Clean Sweep", for the TV series "Batman".
Monique van Vooren appeared as Queen of Skulls in the 1971 Italian comedy "The Decameron".
Community content is available under
CC-BY-SA
unless otherwise noted.