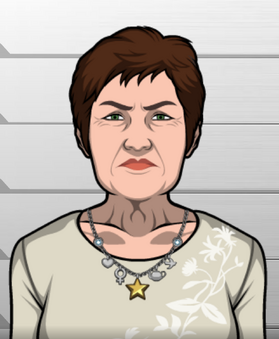 Barbara Pickley is the villainess of "Dead Girl Rolling", case #4 of Criminal Case: Pacific Bay, the 2nd season of the crime solving game Criminal Case (release date April 3, 2014). She was the mother of Howard Pickley and the mother-in-law of his wife Susie, a roller derby competitor.
When Susie died during a roller derby match, Barbara initially came off as a doting mother-in-law when questioned, revealing that she encouraged Susie to be a strong woman and to not simply act as the servant to her lazy son. But in actuality, Barbara strongly disapproved of Susie competing in roller derby, finding the sport degrading to women and growing frustrated with Susie making new friends and beginning to ignore her advice. She also feared that the newly confident Susie would cheat on Howard, leading her to hire blogger Becky Walden to follow and write about Susie's activities, claiming she was competing for an award.
When Barbara learned that Susie was supposedly flirting with street performer Lenny Spitfire, Barbara decided she had to kill Susie to spare Howard from heartache. To do so, the evil Barbara added Rocket Cow (an energy drink) into Susie's drinking bottle, causing Susie to die of an allergic reaction to caffeine. A charm from Barbara's necklace was found in Susie's gym bag, and this (among other clues) revealed Barbara as her daughter-in-law's killer.
When confronted by the player and Amy Young, Barbara confessed to her crime, accusing Susie of betraying her and Howard and revealing that she'd also killed Susie during her match as a way to dissuade her son from getting involved with roller derby girls. Barbara lastly asked for the player to do a better job in mentoring their new partner (Amy) than she did with Susie before being placed under arrest. At her trial, judge Edward Dante chastised Barbara for her callous motivation for killing her daughter-in-law and her lack of care to cover her tracks before sentencing her to a twenty-five year prison sentence.
Barbara Pickley is the first villainess of Criminal Case: Pacific Bay.
Community content is available under
CC-BY-SA
unless otherwise noted.