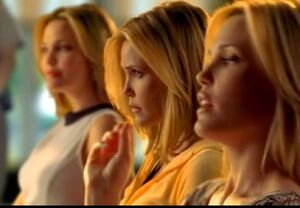 Ashley Whitford 
(née 
Selby
), 
Beth Selby
, and 
Cayla Selby
(Leslie Bibb) are identical triplet villainesses from 
CSI:  Miami
episode 5.18:  "Triple Threat" (airdate March 19, 2007).
Ashley Whitford is married to rich real estate developer Dominic Whitford, but unbeknownst to Dominic, Ashley had identical triplet sisters, Beth and Cayla Selby, and Ashley's marriage was part of the sisters' plan to live in the lap of luxury. The original plan was for Ashley to marry Dominic and divorce him, but Dominic wanted Ashley to sign a pre-nuptial agreement. With that, Ashley had to become pregnant, but there was one problem:  she was infertile. Beth stepped in and slept with Dominic, resulting in Beth getting pregnant and giving birth to Noah.
The sisters later colluded together to kill Dominic, as to continue living the rich lifestyle. As part of the plan, Beth appeared at a huge gathering at the house dressed as Ashley, the real Ashley was at a gym working out, and Cayla was committing the murder, doing so by shooting Dominic while the champagne bottles corked. Dominic's body fell over the balcony and was witnessed by Beth, giving Ashley an ironclad alibi. The sisters' evil plan and ruse was discovered by Natalia, who revealed that Cayla's nose bleed while committing the murder fingered her as the actual killer. However, the triplets were surprised to learn that the man they killed was not Dominic, but a stand in who had plastic surgery to look like him, and as they were arrested and taken away in cuffs, they walked past the real Dominic, who was surprised to learn (for the first time) that Ashley had identical triplet sisters.
Leslie Bibb later appeared on The Following as recurring villainess Jana Murphy, as well as Aimee Brells in the YouTube Red series Rhett and Link's Buddy System.
Community content is available under
CC-BY-SA
unless otherwise noted.