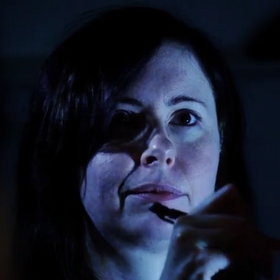 The
Artist
(Katie Southwell) is the titular villainess of the 15-second horror film,
The Artist
 (released in 2016). The film opened with the artist sketching a portrait of a young couple, giving intense stares at her subjects as she continues her artwork.
As the artist nears completion on her drawing, the brunette woman appeared to be finishing up her piece by enhancing the man's eye in her drawing. But after that, the artist turned heel by stabbing the drawn man's eye with her pencil, causing the real man's eye to become gouged due to the villainess' unspecified powers. The film ended with the couple screaming as the man clutched his wounded eye, leaving their fates and the fate of the psychotic artist unknown.
Community content is available under
CC-BY-SA
unless otherwise noted.