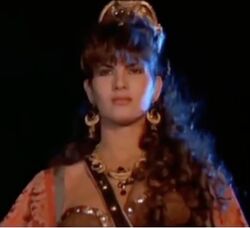 Aracne (Pamela Prati) is the evil Spider Queen in the 1985 film The Adventures of Hercules II.
Aracne lives in her cave like dwelling, with several minions around a cauldron. Aracne is wearing a leather corset like outfit outlined in metal rivets. She has a sword in a sheath, attached to a sling that hangs over one shoulder. She wears a gold crown, and has an orange cape.
Aracne entertains Hercules (Lou Ferrigno) in her cave dwelling. However, she quickly turns into a threat and attempts to kill Hercules with her sword, and so Hercules overpowers and strangles her. She turns green and begins to glow, turns into a cocoon like shriveled up blob, and dies. It is revealed that her body contained the the fifth thunderbolt, which Hercules takes.
Pamela Prati appeared as the sensuous Carmen in the 1984 French erotic drama "Carmen nue".
Pamela Prati appeared as a female succubus in the 1988 horror film, Transformations.
Community content is available under
CC-BY-SA
unless otherwise noted.