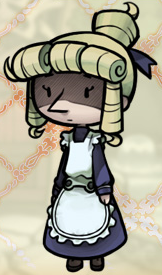 Antoinette is a character in the video game Touch Detective. She is the true identity of the Dream Thief from episode one, "Reality of a Fanciful Dream", and thus the true culprit who was responsible for stealing the dreams of Penelope.
In order to steal Penelope's dreams, Antoinette found a way to "dream walk" into Penelope's dreams. She would wear a large paper bag that concealed her entire body, then, within the dream, she would approach Penelope in the park and kidnap her. In the real world, this allowed Antoinette to steal Penelope's dream energy, Penelope's dreams being particularly strong due to her nature as a "ditz", and crystallise it. Her motivations were to use this energy as an ingredient in deserts.
Due to Antoinette's continued dream-stealing, Penelope was left unable to experience dreams; she couldn't dream at night, nor daydream, and had a large empty hole in her heart. It was not until this had been happening for a while that Penelope decided to take the problem to her friend, Mackenzie, who was a private detective. Mackenize didn't believe Penelope at first (particularly as the latter is a large ditz who is often claiming strange things), but her investigations into the case ultimately lead her to uncover Antoinette as the culprit and her motivations, which seemed petty to all but Antoinette herself. In the end, Penelope agreed to satisfy Antoinette by letting her have one of her dreams every week, and Antoinette was not arrested; Mackenize wasn't sure about this outcome, but as both parties seemed satisfied she left it at that.
Community content is available under
CC-BY-SA
unless otherwise noted.