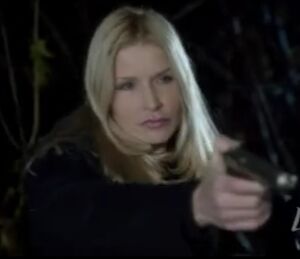 Anna Prieto (Cinthia Burke) is the secondary villainess from the 2011 Lifetime film, The Perfect Roommate.
Anna Prieto is the longtime friend and henchwoman to Carrie Remington, and less than a year before the film's events, Anna killed prostitute Shay Benson on Carrie's orders and helped frame Marty Remington (Carrie's husband and Shay's lover) for the murder in order to split his wealth. But their villainous plan failed when it turned out that Marty had lost most of his money in business deals.
The events in the film reveal that Anna works as a taxi driver, and she conspired with Carrie for the latter to engage in a relationship with wealthy Richard Dunnefield, with Carrie becoming the roommate of his daughter Ashley to do so. Before that, however, Anna steals Ashley's laptop one night in order to aid Carrie in learning more about her and her father. Once Richard's ex-girlfriend, Paula Wickless, became an obstacle, Anna was given the order by Carrie to eliminate her. Later on, Anna picked up Paula in her cab, drove her out to an isolated area, and shot her to death. In the end of the film, Anna was arrested for conspiracy to commit murder, as was Carrie.
Cinthia Burke also appeared in 2012's Fugitive at 17 as villainess Renee.
Community content is available under
CC-BY-SA
unless otherwise noted.