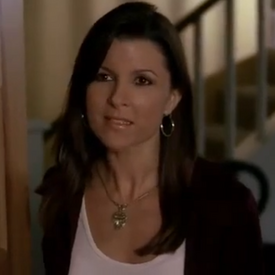 Ann Wylie (Shea Curry) is the secondary villainess of the first Crossing Jordan/Las Vegas crossover event. She didn't make her first official appearance, however, until the Las Vegas portion of the crossover, episode 2.08 "Two of a Kind" (airdate November 8, 2004).
She was the wife of Tommy O'Brien, a con artist with a history of illicit activities in Las Vegas and Boston. Aiding him in his plans were prostitute and fellow con artist Madeline Pillsbury, who was also his wife. When Ann was informed by Ed Deline and Danny McCoy (both of whom worked at Montecito Casino, where Tommy usually did business) about her husband's true identity, Ann seemed shocked and heartbroken at the revelation.
But in actuality, Ann knew about her husband's double life and was colluding with Madeline to get their hands on his money. After Madeline killed Tommy and stole a suitcase of three million dollars he was taking to Boston, she went to a junkyard to meet up with Ann. When detective Woody Hoyt and M.E. Jordan Cavanaugh arrived with Danny, the evil Ann opened fire on the group with a pistol provided to her by Madeline as her partner was in a standoff with the three.
Later on, after Madeline poisoned Robbie Sugar (who knew Tommy from when he and Madeline frequented his swinger's poker games) to prevent from exposing Tommy's bigamy and cost her and Ann his money. Ann was exposed as Madeline's cohort when security footage was found of Madeline providing Ann with the gun she used during the standoff. Danny and Woody burst into Ann's house, only to find that she was gone and had went to a nearby airport to flee with Madeline to the Cayman Islands to deposit their ill-gotten money. The investigators caught the two at the airport, cornering them before placing them under arrest (offscreen).
Community content is available under
CC-BY-SA
unless otherwise noted.