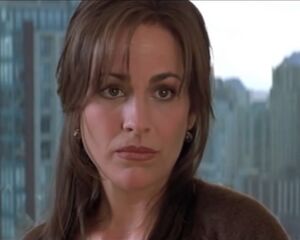 Angela "Angie" Green
, aka
Angie Ryder
(Annabeth Gish), was a hidden villainess from the 1999 thriller,
Double Jeopardy
. She was introduced as the best friend of the film's main protagonist, Elizabeth "Libby" Parsons.
However, Angie was also an adulteress, as she was having an affair with Libby's husband, Nick Parsons. She later conspired with Nick in his plan to fake his murder and set up Libby to be convicted, with the main part of the plan happening during the Parsons' sailing trip. After Libby's conviction, Angie was asked by Libby to look after Matty (Libby and Nick's young son) for the duration of her sentence, and she and Matty were shown visiting Libby in prison.
The visits eventually stopped, and in the time that passed, the evil Angie moved from Washington State to San Francisco with Nick, who changed his name to Simon Ryder, with Angie becoming Angie Ryder and posing as his wife and a mother figure with Matty. An indignant Libby found Angie's information and called her from prison demanding to talk to Matty, and it was during the call that Angie's reveal as a villainess took place, as Matty was heard by Libby calling his father as he walked in. Angie warned Nick that Libby was on the phone, prompting Nick to cut the phone line. After Libby is paroled after six years, she searches for Angie and information on her, only to learn via a neighbor that Angie was killed in a gas explosion--a staged accident set up by Nick.
Annabeth Gish later played villainous police chief Julie Carmen in Against the Wall, evil werewolf leader Anita on Once Upon a Time, recurring villainess Laura Gabriel on CSI, and main villainess Alice Sands on Rizzoli & Isles.
Community content is available under
CC-BY-SA
unless otherwise noted.