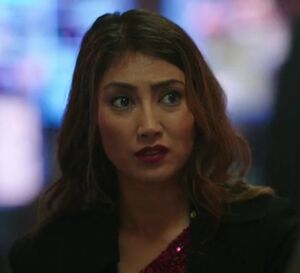 Angela Goodwin
(Chasty Ballesteros) is a villainess from "Father's Day," episode 2.14 of
NCIS: New Orleans
(airdate February 9, 2016). She appeared at the annual Mardi Gras event and was shown in the beginning of the episode flirting with Mayor Douglas Hamilton.
It was later revealed that Angela was a villainous conspirator in the abduction of both Mayor Hamilton and Dwayne Pride, which was committed by Mike Spar (who was seeking vengeance and blaming both men for the death of his wife). Spar paid Angela $500 for her role, and as shown in the early scenes, the evil Angela lured Hamilton away from the party and set him up to be abducted. LaSalle and Percy came to the conclusion that Angela (whose name wasn't known at the time) was connected to the abduction, which led to the pair pursuing the villainess. Angela pointed a knife at both LaSalle and Percy, who later tackled her.
Angela confessed to her role, after her past criminal offenses were revealed, stating that she was paid to do so. She stated that she was led to believe that it was all a prank, and that she was a fan of Hamilton; she even voted for him. Angela was later arrested for the role in Hamilton and Pride's abductions.
Community content is available under
CC-BY-SA
unless otherwise noted.