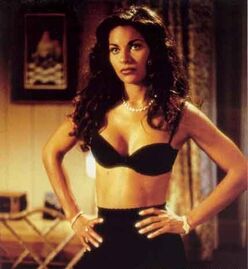 Angela (Salli Richardson-Whitfield) plays an evil babe and murderer in "A Low Down Dirty Shame" .
She is the hero's ex-lover. Among other crimes, she seduces a man, only to kill him afterwards with a pistol. At the end, she is defeated by the hero's new girlfriend who knocks her out after a tough fight and leaves her for the police. The last we see of beautiful Angela is being led away by two police officers with her hands cuffed behind her back.
Salli Richardson-Whitfield also appeared on The Finder as villainess Athena Brookes.
Community content is available under
CC-BY-SA
unless otherwise noted.