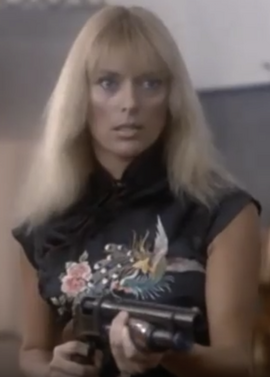 Angel (Sybil Danning) is an antagonist in the 1984 action film "Jungle Warriors".
A group of models fly into the jungle of a South American country to look for a photo location.  The plane is shot down and they are captured by Cesar Santiago (Paul L. Smith), a drug baron and his private army.  He suspects them of being spies, and one of them Joanna Quinn (Nina van Pallandt), does turn out to be a federal undercover cop.
The models include Didi Belair (Ava Cadell), Marci (Mindi Iden), Cindy Cassidy (Myra Chason), Monique Rogers (Angela Robinson Witherspoon), Brie Klinger (Kari Lloyd), Pam Ross (Suzi Horne).
Cesar at first provides the models dinner, but after introducing them to his sadistic half-sister Angel, the girls and rounded up and taken down to a subteranian chamber where they are tied up and tortured.  Some of the girls are raped by the guards under the order of Angel.  What is really disturbing, is the fact that it appears that Cesar and Angel are romantically involved.
The Mafia's representative, Vito Mastranga (John Vernon) arrives to negotiate future collaboration with the drug baron.  While negotiations are underway, the girls escape and a shootout ensues.
Angel is blown up from a hand grenade.
Sybil Danning appeared as Brenda in the 1980 Italian detective thriller "Day of the Cobra".
Sybil Danning earlier appeard as the evil sorceress Ariadne , in the 1983 Italian adventure film, "Hercules".
Sybil Danning appeared as Mary Kruger in the 1984 episode "Visitor's Choice" for the TV series "V".
Sybil Danning later appeared as Stirba , the main villainess from the 1985 film, "Howling II: Your Sister is a Werewolf".
Sybil Danning appeared as Warden Sutter in the 1986 film "Refor School Girls".
Sybil Danning apperead as The Alien Queen in the 1988 film, "The Phantom Empire".
Sybil Danning later appeared as evil succubus Pamela Dare in the 1989 episode of "Superboy", entitled "Succubus".
Community content is available under
CC-BY-SA
unless otherwise noted.