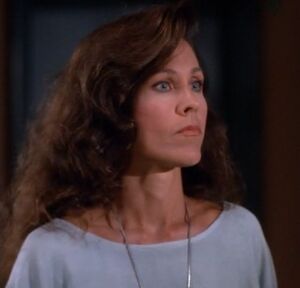 Andrea Dean
(Erin Gray) is the main villainess from "Wearing of the Green," episode 5.06 of 
Murder, She Wrote
(airdate November 27, 1988). She is a jewelry designer for the Blackthorn and Sons jewelry store in New York City.
Andrea was recruited by buyer Laszlo Dolby to create a copy of the "Queen of Tara" Tiara; as he had stolen the real one and left a check for $1500 (the tiara was worth $3 million). She was paid $2000 to create the copy, which Laszlo claimed was for the reclusive actress Siobhan O'Dea. However, Andrea had heard about the robbery and learned that Laszlo was behind it, and she confronted him in his hotel room, where she saw the real tiara in plain sight. Andrea hid when she saw reporter Ken Parrish at the door, taking the tiara with her, but after Laszlo got rid of him, Andrea attempted to leave. Laszlo was preventing Andrea from leaving, leading to a violent scuffle which ended with Andrea grabbing a knife and stabbing him to death.
Andrea originally planned to return the tiara, but with Laszlo dead, she decided to take the tiara for herself and escape across the country. In the episode's climax, the evil Andrea ended up encountered by detectives Bess Stacey and Kathleen Chadwick, after Jessica Fletcher figured out Andrea's role, and they searched her luggage and found the tiara. The villainess planned to take a bus across country, because her luggage would be checked if she had flown. After being caught, Andrea confessed everything; her role in copying the tiara and to Laszlo's murder, while claiming that she attempted to escape with the fear that her story wouldn't be believed. After her confession, Andrea was arrested for her actions (off-screen).
Community content is available under
CC-BY-SA
unless otherwise noted.