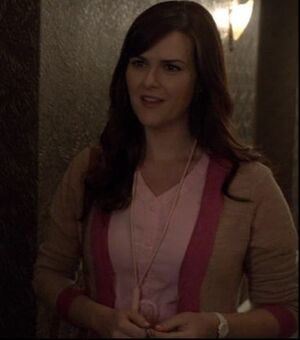 Amy Alleris (Sara Rue) is the main villainess from "Heeeeere's Lassie," episode 6.11 of Psych (airdate March 7, 2012). She is a nurse and a resident at the Prospect Gardens condo building, and she was shown early in the episode greeting the recently moved-in Carlton Lassiter and welcoming him to the building.
However, Amy's sweet nature masks her true psychotic demeanor, as it was revealed that she had been seeking therapy for her issues with rejection due to having been left at the altar twice. She became infatuated with Ray Brauer, but he did not share her sentiment, so in an act of revenge, Amy drugged Ray with amyl nitrate, which caused him to go crazy. She also "haunted" Ray--using the old legend that the building was haunted after a murder-suicide was committed years ago--before finally pushing Ray out of the bedroom window, killing him. Amy did the exact same thing to another tenant, Marc Waraftig, after he turned down her affections, and his body was found hanging from the ceiling. In both murders, Amy made them both look like suicides.
After learning that Lassiter was with the SBPD, the psychotic Amy attempted to do the same to him, and she killed building manager Lloyd Marr when he--a kleptomaniac--stole a bottle of Amy's drug of choice from her. Shawn and Gus confronted Amy with the facts in the episode's climax, which led to the villainess escaping. The duo chased Amy to the rooftop, where Amy was attempting to rush after them and push them over, only for Shawn and Gus to dodge her. Amy ended up falling over the rooftop, but she safely landed on the awning, where police picked her up and arrested her.
Sara Rue later played psychotic villainess Beth in Don't Wake Mommy.
Community content is available under
CC-BY-SA
unless otherwise noted.