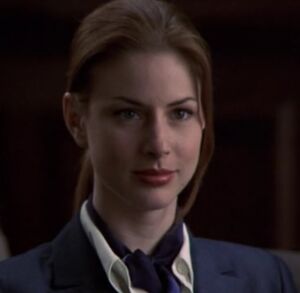 Amelia Chase
(Diane Neal) is the secondary villainess from "Ridicule," episode 3.10 of 
Law & Order: SVU
(airdate December 14, 2001). She is a stockbroker who participated in the rape of male stripper Peter Smith, working with cold-hearted attorney 
Pam Adler
 and their cohort,
Sidney Green
, in the sexual assault, which took place at Sidney's bachelorette party.
Later on, Amelia and Pam learned that Sidney was planning to settle with Peter and come clean to the rape after he filed a $5 million civil suit against her, and it was after learning of their co-conspirator's redemption that the villainous pair colluded with each other in order to kill Sidney. Amelia had been practicing autoerotic asphyxiation, and she and Pam used that in order to make the former's act of murder appear to be an accident, with Andrew Green discovering his ex-wife's deceased body in the opening minutes of the episode. 
Both villainesses were arrested and charged in the rape of Peter Smith, but later on, evidence of Amelia's role in Sidney's murder came to light. Among the things also revealed was Amelia's autoerotic asphyxiation practices, as it was stated that she wears turtlenecks to hide the marks on her neck. Facing a life sentence, the evil Amelia agreed to testify against Pam for a lighter sentence, which ended up being 15 years for both Peter's rape and also Sidney's murder.
Ironically, Diane Neal returned to SVU in the main role of ADA Casey Novak.
She also later appeared during the final season of The Following as the evil Lisa Campbell.
Community content is available under
CC-BY-SA
unless otherwise noted.