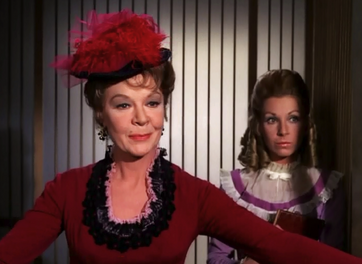 Amelia Bronston (Jo Van Fleet) is the main villainess in the episode 'The Night Of The Tycoons' for the TV Series "The Wild Wild West"
Agent James T. West discovers that three members of the Jupiter Corporation have recently died. All were involved in a scheme to dump stock, cause a panic, and make tons of money off of the cheap stock. After the near costing of his own life, West uncovers the main villainess is the Corporations Chairman Amelia Bronston who tries to blow up West and the surviving members of the Corporation with an explosive; however, she dies after she accidently falls down an open elevator shaft, which is ironically brought about because of Amelia's cruelty to her secretary Miss Kyra Vanders (Joanie Sommers).
The Last Episode of the Orginal Series. April 11, 1969
James T West was the only performer to appear in every episode of the series
Community content is available under
CC-BY-SA
unless otherwise noted.