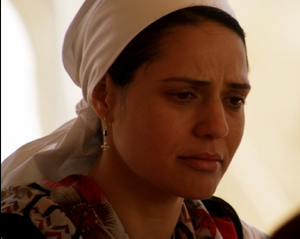 Amaya Vayas
(Monique Gabriela Curnen) is the main villainess from
Longmire
episode 2.03, "Death Came in Like Thunder" (airdate June 10, 2013). She is the wife of Costa Vayas, and the couple (along with Costa's brother Sal) was shown at a Basque festival, being asked by Walt Longmire and Vic Moretti regarding the death of Costa and Sal's baby brother Marco.
It was revealed later on that Marco was planning to sell their family land to a lumber company, and the company approached Amaya regarding the deal. After learning the truth, Amaya kept her meeting with the company a secret from her husband, and poisoned the water supply with hemlock as part of a plan to kill Marco, which succeeds when he succumbs to the poison. As part of the plan, the evil Amaya plotted to make Marco's death look like he had died of a heart attack, knowing full well that the brothers' father died of one.
After arresting Sal, Longmire realized that he couldn't be the killer because he was the type that would have done so to someone's face. Longmire and Moretti drove up to Amaya and Costa's home and saw the latter attacking the former, accusing his wife of selling the brothers out. Longmire saved Amaya from the well, and pulled out what appeared to be hemlock, claiming that the water was poisoned. It was at that moment that Amaya later confessed to killing Marco, stating that she was saving the family. The villainess stated that Marco selling the land would ruin her and Costa, as half of their income would be gone. Amaya berated Costa for (in her mind) being weak, saying that he wouldn't have done anything to stop Marco because he gave him whatever he wanted. After Amaya's villainous confession, Longmire revealed that the water was not poisoned, and what he claimed was hemlock was actually elderberry from his pocket. Amaya was later arrested (off-screen) for killing Marco.
Monique Gabriela Curnen later recurred on Elementary as the evil Gina Cortes.
Community content is available under
CC-BY-SA
unless otherwise noted.